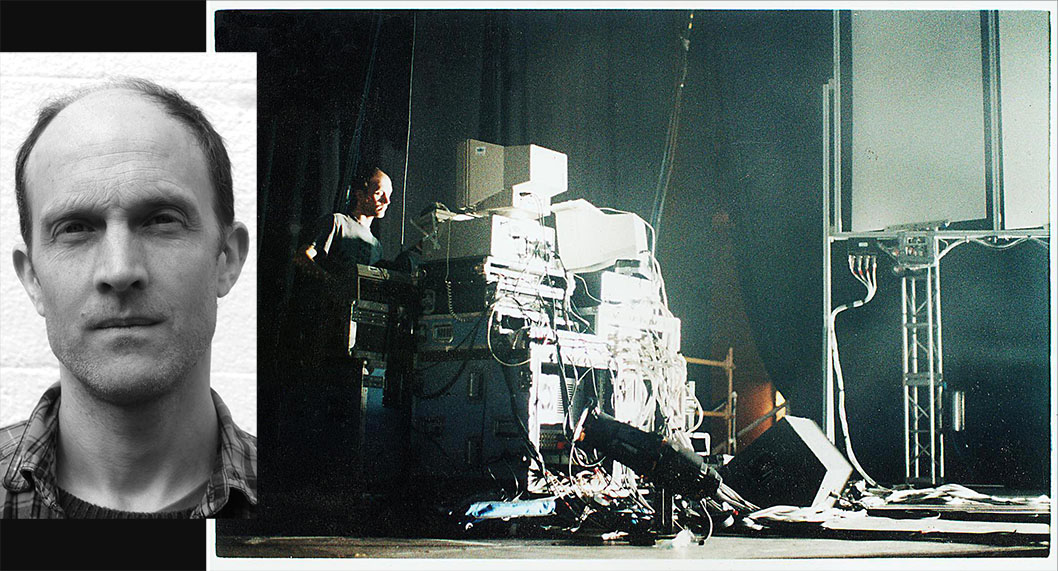 I've been involved in moving image projects for over 30 years, since the very dawn of live video projection and the pioneering VJs days...
I now specialise in content creation for live/event/theatre environments, in particular mapping and multiple screen installations. I'm involved with a wide mix of client based and arts based work, and love it all!
I often take the role of creative director, sometimes solo, sometimes managing a team. So I have plenty experience of developing briefs, liaising with clients, speccing hardware and designing installations, building storyboards and animatics, overseeing 2D/3D integration, editing and comping, live vision mixing/playback, and generally overseeing productions from initial concept to delivery, managing tight deadlines while maintaining high production values.
Much of my work is collaborative by nature. I work alongside directors, illustrators, storyboard and 3D artists, musicians and sound designers, theatre directors, dancers and pyrotechnicians.
content creation - I co-direct Shared Space and Light, an arts based projection mapping studio that aims to reveal the hidden stories within buildings and explore local communities' sense of place (www.sharedspaceandlight.com).
I have directed many motion graphics projects for Drive Productions over the years (www.driveproductions.co.uk), a leading specialist in high-end event production (Ferrari, X Factor, Lotus, Nokia, Ralph Lauren). These are often very complex jobs, both technically and creatively, with high resolution content mapped onto 3D templates, using multiple projectors.
And I have worked independently on numerous theatre projects over the years, developing a sense for how projection and performance can integrate together, how to fuse these two seemingly different worlds together.
live video control - From my early days as pioneering VJ Ultrascope using my own DIY projectors, to video designer and live operator for 200+ shows with the electronic band Orbital, to live vision mixing for TED.com's global conferences, the massive Edinburgh Hogmanays, Alternative Miss World events, catwalk fashion shows and assorted live theatre shows, using both hardware and software vision mixers.

installation design - I have a thorough understanding of the complex nature of projected imagery and it's ability to transform space. My projection work often takes surprising forms: 13 motorised screens (Orbital), layers of translucent screens (Emile Sande), the surface of a car (Bentley), bespoke story-telling lampposts (Talking Posts), 15,000 pixel wide screens (Middle East Event Awards).

education - I trained as a freelance instructor for Adobe (briefly, as the freelancer programme was discontinued). I am qualified as an Adobe Certified Expert (ACE) in After Effects, and have given lectures about my process and training sessions in After Effects and related digital media.
I have worked as a part-time tutor on the Moving Image MA at London Metropolitan University, and at Sussex Downs College on the Digital Media MA, both for 2 years. I have also led many workshops for adults and children teaching animation and motion graphics.
< PROJECTS >
2021
House Mother Normal - 10 screen installation for Brighton Festival - Ultrascope
Giving Thanks - finale piece for Mayflower 400 anniversary - Shared Space and Light
2020
Day in a Life - motion graphics for Interpol Report - Ultrascope
Murmurations - video installation at Fabrica Gallery - Shared Space and Light
Samsung Halloween House - projection mapping onto old house - Ultrascope
2019
Leonardslee Illuminated - Light trail projections - Shared Space and Light
Enchanted Horsham - Projection mapping for Festival - Shared Space and Light
British Museum Research Space - research data visualisation project - Ultrascope
2019 TUC Trade Union Congress- 9 screen animation for TUC conference - QED/Ultrascope
Always and Always facing toward the Light - epic Suffragette Centenary celebration - Shared Space and Light
2018
Vessel - scenography for Sue MacLaine Company theatre production - Ultrascope
150th TUC Trade Union Congress- 9 screen animation for TUC conference - QED/Ultrascope
XRC - R&D workshops and performance fusing circus and technology - XRC/Ultrascope
Museum and Heritage Show - scale model video mapping display - Shared Space and Light
Moontales - scenography for theatre production by Kate Darach - Ultrascope
2017
the Common Good - mapping installation for Lumiere Durham - Shared Space and Light
TUC Trade Union Congress- 9 screen opening animation for TUC conference - QED/Ultrascope
The Dark Unknown - R&D development of AV based theatre show - Project X
Talking Posts Gateshead - installation for light festival - Shared Space and Light
2016
Talking Posts Hastings - installation for storytelling festival - Shared Space and Light
Jaguar Wimbledon launch - 5 screen animation for VR pods at Waterloo Station - Drive Productions
Middle East Event Awards - intro film and award/category stings across 7 screens - Drive Productions
Sirin Labs mobile phone launch - creation of product feature films - Drive Productions
Innovox - graphics/viz for product launch pilot - Drive Productions

2015
Home Sweet Home Durham - mapping installation for Durham Lumiere - Shared Space and Light
D_code - theatre/dance/projection performed at Rich Mix, London and the Brighton Corn Exchange - Yael Karavan/Ultrascope
Talking Posts - projection installation for Brighton Digital Festival - Shared Space and Light
Ruby Bullet - theatre show trailer - Lavish Design
Home Fires - promenade theatre - Shared Space and Light/Zap Arts
Israr Award Ceremony - mapping and stings - Drive Productions
2014
David Guetta, X Factor - music visuals - Drive Productions
Mission Ferrari - mapped theme park attraction - Drive Productions
Our Dancing Feet - promenade theatre - Shared Space and Light/Zap Arts
Kuwaiti National Day Operetta - music visuals - Drive Productions
Sustainability Week Conference - intro films - Drive Productions
2013
Home Sweet Home - mapped installation - Shared Space and Light
Latitude Festival - documentation promo - Lavish Design
Leadenhall - pilot for architectural mapping installation - Drive Productions
Emile Sande X Factor - music visuals - Drive Productions
Lotus E21 - latest F1 car launch promo - Drive Productions
2012
Labrinth X Factor - music visuals - Drive Productions
Ted Global - vision mixing - Ultrascope
Flame - mapped Paralympics torch ceremony - Shared Space and Light/World Famous
Babel - promenade theatre - Shared Space and Light/Wildworks
Gothenburg Hotel - mapping installation - Drive Productions
Orbital - mapped stage design and content production - Ultrascope
2011
Timegate - TV pilot - Drive Productions
Nokia - mapping installation - Drive Productions
Tower of Dreams - mapped installation - Shared Space and Light
Anglian Water - mapping installation - Drive Productions
Ralph Lauren - mapping installation - Drive Productions
Bentley - mapped car installation - Drive Productions
2010
Battersea Power Station - mapping installation - Drive Productions
Alternative Miss World - vision mixing - Ultrascope
Skanska - infographics promo - Blue Edge
Ark Gala - mapping installation - Drive Productions
Sussex Downs College - tutor on Digital Image MA - Ultrascope
Queens House - mapping installation for Bombay Sapphire - Drive Productions
2009
Bloomberg - TV studio launch - Drive Productions
Orbital - music visuals - Ultrascope
2020 cricket - motion graphics for season launch - Exceeda
Romeo and Juliet - vision mixing - BBC/Ultrascope
Decale - stings for Canal Plus channel launch - Exceeda
Imagine Literature Festival - intro film - D Fie Foe
Skillset - storyboard/animatics course - Lighthouse
2008
the Mellowtrons - audiovisual DVD commission - Ultrascope
JCB Dancing Diggers - live show visuals - Drive Productions/Lavish Design
Toonsters - stings for TV channel launch - Exceeda
Adobe - freelance instructor
various schools/colleges - animation workshops - Moving Pictures

2007
Kasabian - music visuals - Ultrascope
Optronica AV Festival - key image design - Addictive TV
the Mellowtrons - live performance to open Optronica Festival at London Imax
various schools/colleges - animation workshops - Moving Pictures
Bacardi Remix - music visuals for MTV - Exceeda
Richard Ashcroft - music visuals - Ultrascope
2006
GoldFrapp - music visuals - Ultrascope
Linde - forklift launch extravaganza - Drive Productions/Lavish Design
various schools/colleges - animation workshops - Moving Pictures
London Metropolitan University - tutor on Moving Image MA
2005
Mixmasters - 10 min animation for Mixmasters ITV - Addictive TV
Nike Panna - motion graphics, stings and live mix - Drive Productions
One Perfect Sunrise - pop promo for Orbital - Ultrascope
Turin Brakes - music visuals for live stage production - Ultrascope
2002 / 2008 - Big Chill Arts Trail technical co-ordinator
2002 / 2009 - animation workshops for schools/festivals - Moving Pictures/D Fie Foe
2003 / 2008 - various projects - motion graphics - Blue Edge
1999 / 2006 - Edinburgh Hogmanay - live visuals and stings - Ultrascope
1992/2012 - Orbital - video design, content and live vision mixing for 200+ shows